Locals often refer to Athens as the "cradle of Western civilization." And who could blame us? With a vast and rich history of more than 5,000 years, this is the place where democracy was born—an invaluable gift to modern society. 
Whether or not you're planning to visit Athens soon, this city definitely deserves a place on your bucket list.
In this brief Athens travel guide, we'll share with you valuable travel tips, a range of incredible places you must visit here, and the ten most useful survival phrases in Greek.
Table of Contents
1. Travel Tips
Athens is one of the world's oldest cities, the Greek capital, and—with more than three million inhabitants—certainly the biggest city in Greece. It lies almost in the center of the country and it connects with almost all the major cities, either by land or by various means of transportation.
Language
Although the official language is obviously Greek, the majority of people here speak fluent English. Even if you don't know any Greek, you'll be able to communicate, ask for information or directions, read labels and signs, and even choose your favorite dish at a local restaurant. 
However, locals highly appreciate tourists who know even a little bit of Greek; nothing will put a smile on their faces faster than hearing you try out some basic phrases. Even if you're just starting to experiment with Greek, feel free to practice. This will take you a step closer to the culture and help you dive into the rich history held in almost every corner of the city. 
Getting Around
Athens, like any other modern European capital, offers a complex network of transportation. You can get around via the metro, trains, trolleys, buses, and even trams. 
Nevertheless, the best way to get around is definitely by metro, which is one of the newest installations in Europe. You can travel fast and easily to all of the major sights in the historical center, while at the same time  admiring some ancient ruins which were brought to light by archaeological excavations. Monastiraki Station, in particular, is a true gem; here, you can see whole sections of the old city of Athens in specially designed showcases.
When it comes to the other means of transportation, please keep in mind that small delays are almost guaranteed.  
Accomodation 
If you're visiting for a short period of time, the best place to stay is within the borders of the historical center of the city. This includes areas such as Plaka, Thiseio, Omonia, Akadimias, Akropolis, Panepistimiou, and Monastiraki. Staying in these areas will allow you to access all the major sights by foot, thus maximizing your time! Other popular neighborhoods beyond the historical center are Gazi, Koukaki, Kifisia, Glyfada, and Kypseli. 
The average cost of a standard double room within the city center is around 60€. But if you're lucky, you'll be able to find plenty of private Airbnb apartments for the same price. 
Food
Oh, the food! Athens is a foodie's paradise! At almost every corner, you may find something delicious to eat. The options are endless: traditional bakeries; restaurants; tavernas; American-style fast food restaurants; pizza places; souvlaki places; ethnic restaurants offering Chinese, Indian, and Libanese specialties; and more. 
The average cost of a meal at a restaurant is 13€/person, often served with a refreshment or a glass of wine. However, there are many cheaper options, with a traditional pita with gyros costing around 3,00€. In other words, regardless of your budget, you won't go hungry in Athens.   
Packing Reminders
The climate in Athens is temperate and typical of a Mediterranean city. Summers are hot and winters are pretty mild. That being said, we recommend that you pack the following must-have items for your visit to Athens: 
A hat & sunglasses
Comfy shoes
Comfy clothes
A light jacket (depending on the season)
Mosquito spray
2. Must-See Places for a 1-3 Day Trip
Here are some incredible attractions in Athens you shouldn't miss if you only have a few days to visit. 
Ακρόπολη (Akrópoli) – "Acropolis"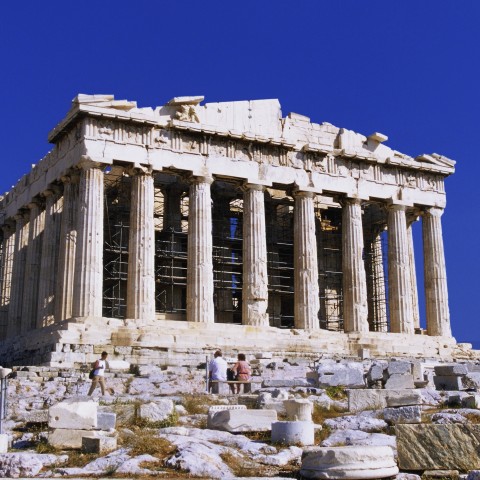 The sites on the Acropolis include the Propylaea, the Temple of Athena Nike, the Parthenon, and the Erechtheion. On the slopes located on the south side of the Acropolis, you'll find the Odeon of Herodes Atticus and the Theater of Dionysus.
Now you might be wondering which of these places are worth a visit. The answer is simple: All of them!

Make sure you have enough time to stare at every little detail of these architectural masterpieces. Climb the hill to visit the Parthenon and then take a stroll around the other sites. Don't forget to also pay a visit to the nearby Museum of Acropolis, as well as the National Archaeological Museum where unique specimens from all over this area are kept. 
All public areas of the National Archaeological Museum are accessible by wheelchair and all of the Museum's levels have elevator access and toilets for individuals with mobility disabilities. The Acropolis also provides wheelchair-friendly access. However, it's probably a good idea to take a taxi to the entrance, in order to avoid the hill.
Πλάκα (Pláka) – "Plaka"
Right below the Acropolis and its impressive ancient masterpieces lies hillside Plaka—an old but well-kept neighborhood of Athens. Its picturesque streets are full of tiny shops selling jewelry, clothes, and local ceramics. 
Sidewalk cafés and family-run tavernas stay open until late. It's the perfect opportunity to enjoy a couple of beers and taste some authentic Greek cuisine. In addition, the whitewashed homes of the Anafiotika neighborhood give an island-feel to this area.
If you have some time to spare, you might want to consider visiting the following locations: 
Σύνταγμα (Síndagma) – "Syntagma Square"
The Greek Parliament is located in the center-most square of this modern Athens city. The national guard is called "Evzones," and they stand in front of the Parliament and the iconic Tomb of the Unknown Soldier. It's definitely worth waiting around for the changing of the guards, which happens every hour of every day. There is an official ceremony each Sunday morning at 11:00 which shows the full grandiosity of the event. 
Another interesting activity is taking a free tour of the Parliament house, where you'll be able to get in touch with modern Greek history and politics.
The Syntagma Square is also where the busiest shopping street (Ermou Street) begins, which leads us to our next sight: Monastiraki.
Μοναστηράκι (Monastiráki) – "Monastiraki"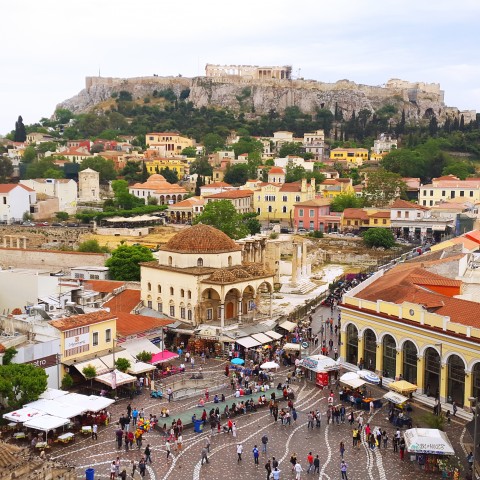 Lively Monastiraki is home to many landmarks, including Ancient Agora and the ruins of Hadrian's Library. The Monastiraki flea market is a jumble of shops selling artisanal soaps, handmade sandals, souvenir T-shirts, and hundreds of other things. All around, you'll find an array of tavernas and restaurants where you can take a seat and enjoy a taste of Athens whilst taking in some spectacular views of the Acropolis. 
3. Highly Recommended Places for a 4-7 Day Trip (or Longer)
If you're staying in Athens for more than a couple of days, then you may enjoy some of the following popular sights.
Get lost in a modern educational place, where you can take a deep dive into space and time. A visit to the Planetarium almost guarantees a day well spent for the entire family.
A true gem in the area of Kallithea, the Stavros Niarchos Foundation is a great place for an evening stroll in the surrounding olive tree park. Take a look at their website and look for any painting exhibitions, music nights, or other activities taking place during your stay.
If you want to learn a bit more about Greece's zoological, botanical, marine, rock, mineral, and fossil specimens, then this is the place to be. It's a child-friendly environment, where you'll learn a lot of interesting information about the natural history of Greece. 
Have you ever wondered where Ancient Greeks stored their wheat during the Bronze Age? In the Museum of Cycladic Art, you'll have the unique opportunity to lay your eyes on everyday objects dating back to 3200 BCE. From statues to Ancient Greek jewelry, you'll find many fascinating items in this collection.  
If you want to visit Athens by night, head over to Thiseio Area which lies just under the lights of the Acropolis. Here you can indulge in an aperitivo, a cocktail, or a glass of wine while taking in its incomparable views. In this scenic pedestrian site, you can find famous rooftop bars and traditional wine & meze corners. It's easily accessible through the metro network (stations Acropolis or Thiseio), making it possible to enjoy this spot wherever you decide to stay. 
If you're up to some Greek clubbing, Gazi is the place to be. It's a former industrial area that has been transformed into a meeting point for locals who enjoy a late-night drink. The neighborhood offers a wide variety of cafeterias, bars, and late-night clubs for you to choose from. It's easily accessible through the metro network (Gazi Station), but be aware that the metro is available until midnight Sunday through Thursday and until 2 a.m. on Friday and Saturday; it starts operating again at around 5 a.m. 
In this area, you may also enjoy Technopolis, an industrial museum of modern architecture. Today, it functions as a multipurpose cultural center, and it features a variety of seasonal exhibits.
4. Greek Survival Phrases for Travelers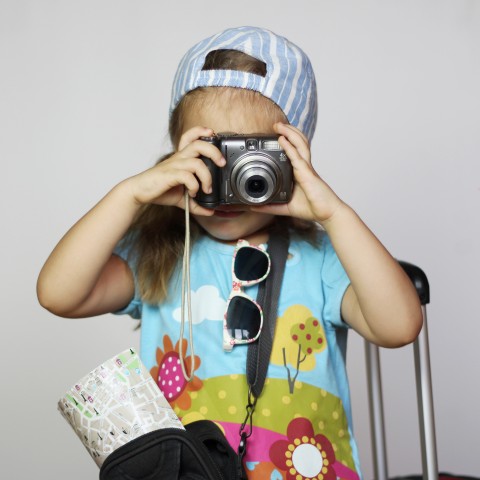 If you plan on visiting Athens, you should first learn the very basics of Greek.

And that's what we're here for!
Below, you'll find the top ten Greek survival phrases for travelers. 
Greek: Γεια.
Romanization: Υá.
Translation: "Hello."
Greek: Ευχαριστώ.
Romanization: Efharistó.
Translation: "Thank you."
Greek: Γεια. / Αντίο.
Romanization: Υá. / Adío.
Translation: "Goodbye."
Greek: Συγγνώμη.
Romanization: Signómi.
Translation: "Sorry." / "Excuse me."
Greek: Πολύ ωραία.
Romanization: Polí oréa.
Translation: "Very good."
Greek: Δεν καταλαβαίνω ελληνικά.
Romanization: Den katalavéno eliniká.
Translation: "I don't understand Greek."
Greek: Πού είναι η τουαλέτα;
Romanization: Pu íne i tualéta?
Translation: "Where is the restroom?"
Greek: Πόσο κοστίζει;
Romanization: Póso kostízi?
Translation: "How much does it cost?"
Greek: Θέλω αυτό.
Romanization: Thélo aftó.
Translation: "I want this."
Greek: Βοήθεια!
Romanization: Voíthia!
Translation: "Help!"
To learn more useful travel phrases or to practice your pronunciation, please take a look at the following resources on GreekPod101.com:
Conclusion
Anything we could say about Athens is probably not enough. It might be a big city, but it's full of magic at every corner. 
Whether you're a history enthusiast, a food-lover, or a nightlife seeker, Athens will definitely fascinate you. 
Did you know that you can take another step closer to the Greek culture by learning Greek online, easily and effectively from your home?
That's exactly what we're here for!

Join GreekPod101.com for a free lifetime account and start learning Greek today.
Before you go, let us know in the comments which of these locations you want to visit most and why! We look forward to hearing from you.