The culture of Greece has evolved over thousands of years. From Cycladic and Minoan civilizations to modern Greek society, each period has shaped and left its footprint on Greek culture as we know it today. 
On this page, we'll explore some of the most important aspects of Greek culture, including philosophy, religion, art, and traditional holidays. Keep reading to enter the fascinating world of modern Greek culture.
Table of Contents
1. Philosophy & Religion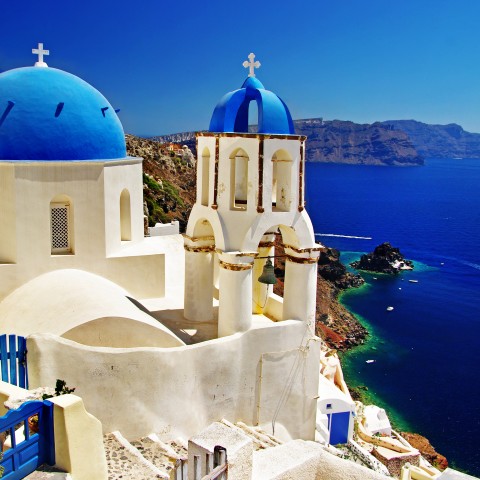 Philosophy and religion play a huge role in Greek culture and traditions. Becoming familiar with these aspects of Greek society will not only immerse you in the culture, but also boost your language learning! 
A- Ancient Greek Philosophers
Socrates, Aristotle, Plato, Pythagoras, Heraclitus, and so many others… Ancient Greeks showcased a clear tendency toward philosophy, which emerged from their urge to understand the world around them as well as the meaning of life. Ancient Greek philosophy rose around the sixth century BC and continued to flourish throughout the Hellenistic period. This set the basis for the early development of different sciences, including astronomy, mathematics, physics, and biology. 
B- Greek Orthodox Church
Most Greeks identify as Orthodox Christians and this highly influences the society as a whole. Nearly every Greek village has its own church, which also serves as a meeting point for the villagers. There are also plenty of chapels on top of mountains and on the edge of cliffs, offering spectacular views. If you have the chance to visit a Greek church or chapel, please feel free to do so regardless of your beliefs or religion. Just make sure to wear conservative clothing—no shorts or trousers, and not showing too much skin. 
2. Family & Work
Greek culture values family, which is an integral part of the social structure in Greece. Family members develop very strong bonds—even members of the extended family can be found around the house. Children are expected to care for their elderly parents and usually live nearby (or even in the same house), even if they have their own family. Greeks tend to be very proud of their heritage, and the family offers psychological and economic support throughout their lives. 
On the other hand, interactions in the workplace are similar to those of other European countries. Worklife normally involves eight-hour shifts five days a week. Many people are working or investing in the tourism sector, which is the most important industry in the country. 
Nevertheless, Greece underwent a major economic crisis from 2007 to 2009, resulting in a dramatic reduction of the standard monthly wage. For the past several years, Greece has been taking consistent steps toward increasing the standard wage and creating a favorable economic environment for investments. 
3. Art
The arts thrived in Ancient Greece. Back then, minimalism was prominent—for example, thin lines and geometrical patterns were very popular. And this was just the start, since Greek civilization eventually gave birth to Western civilization. Even today, many Greek art pieces have managed to sneak their way into art-lovers' hearts. Let's explore some of the most famous Greek art pieces of all time!
A- Αρχιτεκτονική (Arhitektonikí) – "Architecture"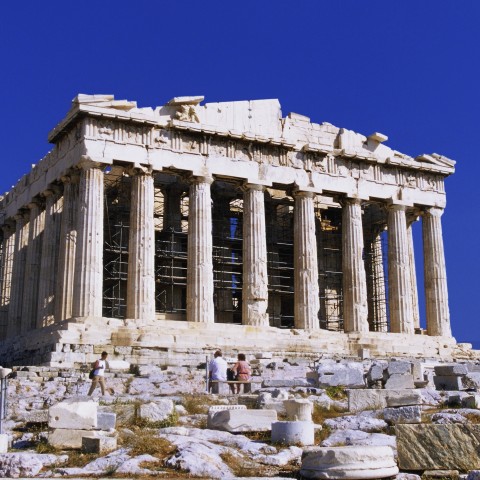 When you hear 'Greek architecture,' the first thing that probably comes to your mind is "The Parthenon" in the Acropolis of Athens. Indeed, η Ακρόπολη της Αθήνας (i Akrópoli tis Athínas), or "the Acropolis of Athens," is an ancient town at the highest level of the city and it serves as the cornerstone of Greek architecture. People from all over the world come to Greece to admire it. We can say with all certainty that this is the most famous sample of Ancient Greek architecture.
Other, more contemporary pieces of Greek architecture are the traditional white houses with blue shades of the Greek Aegean islands. This is where the sea meets the sky. These homes are minimal and iconic at the same time.     
B- Γλυπτική (Gliptikí) – "Sculpting"
Of all surviving art from Ancient Greece, the sculptures are most prominent today. Try finding a large museum in Europe with zero ancient Greek sculptures in it—believe me, it's harder than it looks!

Some of the most famous Greek sculptures include: 
C- Ζωγραφική (Zografikí) – "Painting" 
While painting did flourish in Ancient Greece, the natural substances that were used as paints faded over the years. As a result, the surviving collection of Greek paintings is a bit smaller.
One of the most important collections, which was able to withstand the wear and tear of time, consists of the Minoan frescoes. These pieces, painted on walls, mainly represent aspects of everyday Minoan life. To this day, you can admire some of the oldest samples of Greek painting within the Minoan Palace, as well as in the Heraklion Archaeological Museum.
In addition, you might have heard of these famous Greek painters: 
D- Λογοτεχνία (Logotehnía) & Ποίηση (Píisi) – "Literature & Poetry"
Greek literature dates back to the ancient times, spanning from 800 BC until today. Epic poems, such as Homer's Iliad and Odyssey, make up a great portion of early Greek literary masterpieces.
Later on, many Greek writers gained worldwide fame. One of the most important Greek writers was certainly Odysseas Elytis, a representative of romantic modernism who won a Nobel Prize in Literature in 1979. Before him, the prominent poet Giorgos Seferis made history in 1963 by becoming the first Greek to win the Nobel Prize. Seferis is largely known for his poems, many of which were influenced by Hellenism and his love for Greece. He also composed a few works of prose, most of which were published posthumously. 
Poet C.P. Cavafy became famous worldwide for his poem Ιθάκη (Itháki), or "Ithaca," and Dionysios Solomos is considered Greece's national poet. The first two verses of Solomos's poem Ύμνος εις την Ελευθερίαν (Ímnos is tin Eleftherían), or "Hymn to Freedom," later became the national anthem of Greece and Cyprus.
Other famous Greek writers include: 
E- Θέατρο (Théatro) – "Theatre"
Love of theatre is one of the most popular characteristics of Greek culture, and for good reason: the Greek culture is a theatrical one.
It all began with Ancient Greek drama, which consisted of two genres: tragedy and comedy. This form of theatre reached its peak around 500 BC. By the way, did you know that the word "tragedy" is derived from the Greek word τραγωδία (tragodía)? Well, now that you do, let's take a look at this unique form of performing arts. 
Ancient Greeks thought highly of the power of speech. Therefore, they combined speech with movement and singing to create an influential form of drama. Most tragedies are based upon myths and their main characteristic is catharsis—the purification of emotions that spectators experience at some point during the performance. 
The most famous playwrights of this genre were Aeschylus, Sophocles, and Euripides. Many of their works are still being performed today in theatres of all kinds, even in Ancient Greek theatres. 
However, Greek theatre wasn't all about drama. Aristophanes was a famous Ancient Greek comic playwright, today considered to be the "Father of Comedy" and one of the best-known early satirists. Some of his most popular plays include The Women at the Thesmophoria Festival and The Frogs.
When you visit Greece, you should definitely search for any plays being performed in Ancient Greek theatres, such as Epidaurus or the Odeon of Herodes Atticus. It will be a unique experience in terms of location and acoustics. The summer is the best time to do this. 
4. Food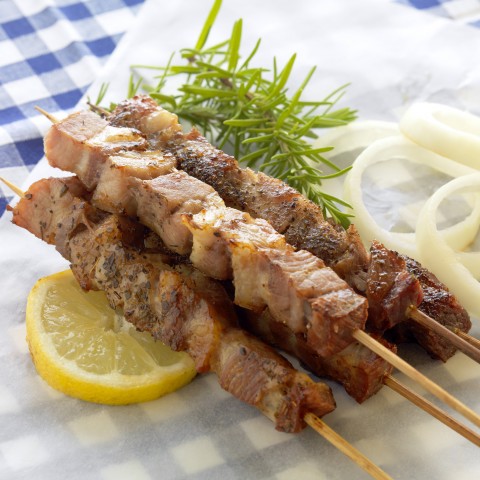 Oh, the Greek cuisine…!
Greek culture and food go hand in hand.

When fresh vegetables meet local cheese, meat, and olive oil, something magical happens. Greek cuisine is an acknowledged representative of the broader Mediterranean cuisine. The most popular Greek dishes include:
παστίτσιο (pastítsio)
μουσακάς (musakás)
φασολάδα (fasoláda) 
γεμιστά (yemistá)
σουβλάκι (suvláki)
In Greece, you can taste all of the above at nearly any ταβέρνα (tavérna), or restaurant with Greek cuisine. Greeks love to eat along with their family and friends. Therefore, they often meet and enjoy drinking some ούζο (úzo) or τσίπουρο (tsípuro), accompanied by a variety of Greek delicacies, known as μεζέδες (mezédes)—small dishes of traditional Greek food.
Have you ever eaten or heard of any of these traditional Greek foods? 
If you want to learn more about Greek cuisine, check out our relevant blog post. 
5. Holidays & Observances
Greeks don't miss any chance to spend public holidays with their friends and family. The two most important Greek holidays are:
Revolution Day (March 25)

After nearly 400 years under Ottoman rule and an almost decade-long revolution, Greece finally became an independent country on February 3, 1830. The Greek Revolution that began on March 25, 1821, is one of the most important chapters of Greek history and it's celebrated across the country. Interestingly, the Greeks don't celebrate their independence as there is no public holiday to commemorate the events of February 3, 1830.

March 25 is a national holiday for Greeks, meaning that the schools are closed. Nevertheless, on the business day immediately before that, each school organizes a feast with songs, poems, short school plays, and traditional dances. Each classroom is decorated with laurel wreaths and small Greek flags as a sign of patriotism. 

Here is the slogan of the Greek Revolution, which is often included in various acts of the celebration. 

Greek: Ελευθερία ή Θάνατος!
Romanization: Elefthería í Thánatos!
Translation: "Freedom or Death!"

Since religion is an integral part of Greek culture, we should mention that March 25 is also a religious holiday where the Greek Orthodox Church celebrates the Annunciation of the Virgin Mary by the Archangel Gabriel.
Ohi Day (October 28)

On October 28, 1940, Ioannis Metaxas—the dictator of Greece at that time—refused the ultimatum made by Italian dictator Benito Mussolini. This was the start of a Greek-Italian war, which marked Greece's involvement in World War II. The word ΌXI (ÓHI), or "NO" in uppercase letters, is iconic for Greeks as it represents Metaxas's refusal.

This is another national holiday, also commemorated in schools one day before. It celebrates the courage of Greeks to resist, a trait which is often praised in the celebrations. 
6. Conclusion
Greek culture is rich, and we couldn't possibly cover all its aspects in a single lesson. However, we hope that you're now a step closer to understanding Greek culture as well as the traits of modern Greek society. 
At GreekPod101.com, we aim to combine cultural insight with useful Greek language materials in order to create a well-rounded approach to language learning. 
Start learning Greek today in a consistent and organized manner by creating a free lifetime account on GreekPod101.com. Tons of free vocabulary lists, YouTube videos, and grammar tips are waiting for you! 
Before you go, let us know in the comments how Greek culture compares to that in your country. We look forward to hearing your thoughts!