Learn all the Greek New Year wishes online, in your own time, on any device! Join GreekPod101 for a special Greek New Year celebration!
Can you relate to the year passing something like this: "January, February, March – December!"? Many people do! Quantum physics teaches us that time is relative, and few experiences illustrate this principle as perfectly as when we reach the end of a year. To most of us, it feels like the old one has passed in the blink of an eye, while the new year lies ahead like a very long journey! However, New Year is also a time to celebrate beginnings, and to say goodbye to what has passed. This is true in every culture, no matter when New Year is celebrated.
So, how do you say Happy New Year in Greek? Let a native teach you! At GreekPod101, you will learn how to correctly greet your friends over New Year, and wish them well with these Greek New Year wishes!
Table of Contents
But let's start with some vocabulary for Greek New Year celebrations, very handy for conversations.
1. How to Celebrate New Year in Greece
New Year's Day is the first day of the year, and in Greece, it is celebrated on January 1st, also known as St. Basil's Day. It is a great opportunity for both young and old to exchange gifts, but also to celebrate together the changing of the year, usually with lots of merrymaking, music, and plenty of food and drink.
Now, before we get into more detail, do you know the answer to this question?
What is a pomegranate used for on New Year's Day in Greece?
If you don't already know, you'll find out a bit later. Keep reading.
The celebration for New Year's Day starts on December 31st, with families intensively preparing for the New Year's Eve dinner party, or [ρεβεγιόν Πρωτοχρονιάς] in Greek. On the morning of New Year's Eve, many children go from door to door singing New Year's carols in exchange for some pocket money. The New Year's carols are called [κάλαντα Πρωτοχρονιάς].
Apart from cooking and preparing the table, women pay special attention to their appearance. As it is the party of the year and, naturally, they want to look their best! The menu mainly consists of meat, but also includes lots of traditional sweets like sugar coated biscuits, or [κουραμπιέδες], honey biscuits or [μελομακάρονα] and, of course, the famous New Year's cake, called [βασιλόπιτα].
As the end of the night and the beginning of a new year approaches, people celebrating at home switch on their television to watch the countdown. At midnight, everyone hugs and kisses each other while giving wishes. In Greek, they say [Καλή Χρονιά!], which is like "Happy New Year" in English.
At night, many people open a bottle of champagne as well for good luck. Then, the householder cuts the New Year's cake or [βασιλόπιτα] after making the sign of the Cross on it three times using a knife. The first piece is cut for Christ, the second for the Virgin Mary, the third for St. Basil, and then subsequent pieces for the rest of the family members. After this, one can expect a lively party and possibly gambling with cards.
The New Year's cake is not just any cake! A lucky coin or [φλουρί] is hidden inside of it. As soon as each person receives his or her piece, the search begins! Whoever finds the lucky coin is said to have luck for the rest of the year!
On the morning of New Year's Day, "Santa Claus," or in Greek [Άγιος Βασίλης] brings gifts to children while the grown-ups rest after the revelry of the previous night. The first tradition is called [ποδαρικό], which means "first-foot". It's about the first entry or visit into the house. Families make sure that first-foot is carried out by a lucky and good-hearted relative, or by their youngest child, because children are pure and guileless. Upon entering the house, the person should step inside using their right foot, so that everything to come will be "right," or, in other words, will come with luck.
Now it's time to answer our quiz question-
What is a pomegranate used for on New Year's Day in Greece?
The pomegranate, or in Greek [ρόδι], is a symbol of abundance, fertility, and good luck. In many parts of Greece, after the year changes, Greeks forcefully throw a pomegranate outside the threshold of their front door, smashing it into many pieces. It is believed that this brings good fortune and an abundance of goods to the household.
Happy New Year!
Καλή χρονιά!
2. Must-Know Greek Words & Phrases for the New Year!
1- Year
έτος
étos
This is pretty self-explanatory. Most countries follow a Gregorian calendar, which has approximately 365 days in a year, while in some cultures, other year designations are also honored. Therefore, New Year's day in Greece could fall on a different day than in your country. When do you celebrate New Year?
2- Midnight
μεσάνυχτα
mesánihta
The point in time when a day ends and a new one starts. Many New Year celebrants prefer to stay awake till midnight, and greet the new annum as it breaks with fanfare and fireworks!
3- New Year's Day
Πρωτοχρονιά
Protohroniá
In most countries, the new year is celebrated for one whole day. On the Gregorian calendar, this falls on January 1st. On this day, different cultures engage in festive activities, like parties, parades, big meals with families and many more.
4- Party
πάρτι
párti
A party is most people's favorite way to end the old year, and charge festively into the new one! We celebrate all we accomplished in the old year, and joyfully anticipate what lies ahead.
5- Dancing
χορός
horós
Usually, when the clock strikes midnight and the New Year officially begins, people break out in dance! It is a jolly way to express a celebratory mood with good expectations for the year ahead. Also, perhaps, that the old year with its problems has finally passed! Dance parties are also a popular way to spend New Year's Eve in many places.
6- Champagne
σαμπάνια
sampánia
Originating in France, champagne is a bubbly, alcoholic drink that is often used to toast something or someone during celebrations.
7- Fireworks
πυροτέχνημα
pirotéhnima
These are explosives that cause spectacular effects when ignited. They are popular for announcing the start of the new year with loud noises and colorful displays! In some countries, fireworks are set off to scare away evil spirits. In others, the use of fireworks is forbidden in urban areas due to their harmful effect on pets. Most animals' hearing is much more sensitive than humans', so this noisy display can be very frightful and traumatising to them.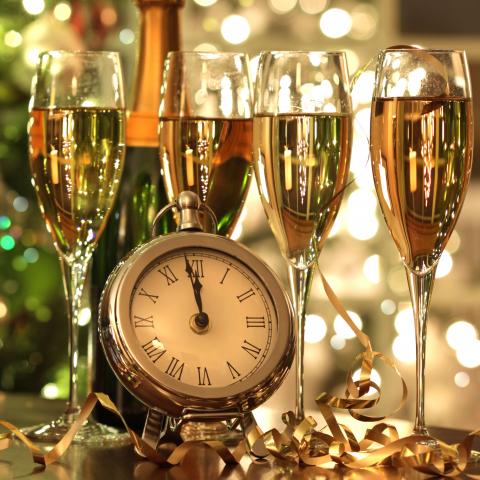 8- Countdown
αντίστροφη μέτρηση
andístrofi métrisi
This countdown refers to New Year celebrants counting the seconds, usually backward, till midnight, when New Year starts – a great group activity that doesn't scare animals, and involves a lot of joyful shouting when the clock strikes midnight!
9- New Year's Holiday
γιορτή της Πρωτοχρονιάς
yortí tis Protohroniás
In many countries, New Year's Day is a public holiday – to recuperate from the party the previous night, perhaps! Families also like to meet on this day to enjoy a meal and spend time together.
10- Confetti
κομφετί
komfetí
In most Western countries, confetti is traditionally associated with weddings, but often it is used as a party decoration. Some prefer to throw it in the air at the strike of midnight on New Year's Eve.
11- New Year's Eve
παραμονή Πρωτοχρονιάς fem
paramoní Protohroniás
This is the evening before New Year breaks at midnight! Often, friends and family meet for a party or meal the evening before, sometimes engaging in year-end rituals. How are you planning to give your New Year greetings in 2018?
12- Toast
πρόποση
próposi
A toast is a type of group-salutation that involves raising your glass to drink with others in honor of something or someone. A toast to the new year is definitely in order!
13- Resolution
απόφαση
apófasi
Those goals or intentions you hope to, but seldom keep in the new year! Many people consider the start of a new year to be the opportune time for making changes or plans. Resolutions are those intentions to change, or the plans. It's best to keep your resolutions realistic so as not to disappoint yourself!
14- Parade
παρέλαση
parélasi
New Year celebrations are a huge deal in some countries! Parades are held in the streets, often to celebratory music, with colorful costumes and lots of dancing. Parades are like marches, only less formal and way more fun. At GreekPod101, you can engage in forums with natives who can tell you what Greek New Year celebrations are like!
3. Top 10 New Year's Resolutions
So, you learned the Greek word for 'resolution'. Fabulous! Resolutions are those goals and intentions that we hope to manifest in the year that lies ahead. The beginning of a new year serves as a good marker in time to formalise these. Some like to do it in writing, others only hold these resolutions in their hearts. Here are our Top 10 New Year's resolutions at GreekPod101 – what are yours?
Learn these phrases and impress your Greek friends with your vocabulary.
1- Read more
Θα διαβάζω περισσότερο.
Tha diavázo perisótero
Reading is a fantastic skill that everyone can benefit from. You're a business person? Apparently, successful business men and women read up to 60 books a year. This probably excludes fiction, so better scan your library or Amazon for the top business reads if you plan to follow in the footsteps of the successful! Otherwise, why not make it your resolution to read more Greek in the new year? You will be surprised by how much this will improve your Greek language skills!
2- Spend more time with family
Θα περνάω περισσότερο χρόνο με την οικογένεια.
Tha pernáo perisótero hróno me tin ikoyénia.
Former US President George Bush's wife, Barbara Bush, was quoted as having said this: "At the end of your life, you will never regret not having passed one more test, not winning one more verdict, or not closing one more deal. You will regret time not spent with a husband, a friend, a child, a parent." This is very true! Relationships are often what gives life meaning, so this is a worthy resolution for any year.
3- Lose weight
Θα χάσω βάρος.
Tha háso város.
Hands up, how many of you made this new year's resolution last year too…?! This is a notoriously difficult goal to keep, as it takes a lot of self discipline not to eat unhealthily. Good luck with this one, and avoid unhealthy fad diets!
4- Save money
Θα κάνω οικονομία.
Tha káno ikonomía.
Another common and difficult resolution! However, no one has ever been sorry when they saved towards reaching a goal. Make it your resolution to save money to upgrade your subscription to GreekPod101's Premium PLUS option in the new year – it will be money well spent!
5- Quit smoking
Θα κόψω το κάπνισμα.
Tha kópso to kápnisma.
This is a resolution that you should definitely keep, or your body could punish you severely later! Smoking is a harmful habit with many hazardous effects on your health. Do everything in your power to make this resolution come true in the new year, as your health is your most precious asset.
6- Learn something new
Θα μάθω κάτι καινούριο.
Tha mátho káti kenúrio.
Science has proven that learning new skills can help keep brain diseases such as dementia and Alzheimer's at bay! It can even slow down the progression of the disease. So, keep your brain healthy by learning to speak a new language, studying towards a qualification, learning how to sew, or how to play chess – no matter how old you are, the possibilities are infinite!
7- Drink less
Θα πίνω λιγότερο.
Tha píno ligótero.
This is another health resolution that is good to heed any time of the year. Excessive drinking is associated with many diseases, and its effect can be very detrimental to good relationships too. Alcohol is a poison and harmful for the body in large quantities!
8- Exercise regularly
Θα γυμνάζομαι τακτικά.
Tha yimnázome taktiká.
This resolution goes hand-in-hand with 'Lose weight'! An inactive body is an unhealthy and often overweight one, so give this resolution priority in the new year.
9- Eat healthy
Θα τρώω υγιεινά.
Tha tróo iyiiná.
If you stick with this resolution, you will lose weight and feel better in general. It is a very worthy goal to have!
10- Study Greek with GreekPod101
μελετώ ελληνικά με το GreekPod101.com
meletó eliniká me to 'GreekPod101.com'
Of course! You can only benefit from learning Greek, especially with us! Learning how to speak Greek can keep your brain healthy, it can widen your circle of friends, and improve your chances to land a dream job anywhere in the world. GreekPod101 makes it easy and enjoyable for you to stick to this resolution.
4. Inspirational New Year Quotes
Everyone knows that it is sometimes very hard to stick to resolutions, and not only over New Year. The reasons for this vary from person to person, but all of us need inspiration every now and then! A good way to remain motivated is to keep inspirational quotes near as reminders that it's up to us to reach our goals.
Click here for quotes that will also work well in a card for a special Greek new year greeting!
Make decorative notes of these in Greek, and keep them close! Perhaps you could stick them above your bathroom mirror, or on your study's wall. This way you not only get to read Greek incidentally, but also remain inspired to reach your goals! Imagine feeling like giving up on a goal, but reading this quote when you go to the bathroom: "It does not matter how slowly you go, as long as you do not stop." What a positive affirmation!
5. Inspirational Language Learning Quotes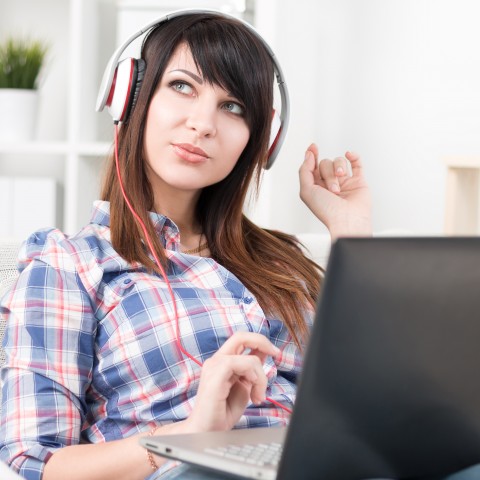 Still undecided whether you should enroll with GreekPod101 to learn a new language? There's no time like the present to decide! Let the following Language Learning Quotes inspire you with their wisdom.
Click here to read the most inspirational Language Learning Quotes!
As legendary President Nelson Mandela once said: "If you talk to a man in a language he understands, that goes to his head. If you talk to him in his own language, that goes to his heart." So, learning how to say Happy New Year in Greek could well be a way into someone special's heart for you! Let this year be the one where you to learn how to say Happy New Year, and much more, in Greek – it could open many and unexpected doors for you.
6. How To Say Happy New Year in 31 Languages
Here's a lovely bonus for you! Why stop with Greek – learn how to say Happy New Year in 31 other languages too! Watch this video and learn how to pronounce these New Year's wishes like a native in under two minutes.
7. Why Enrolling with GreekPod101 Would Be the Perfect New Year's Gift to Yourself!
If you are unsure how to celebrate the New Year, why not give yourself a huge gift, and enroll to learn Greek! With more than 12 years of experience behind us, we know that GreekPod101 would be the perfect fit for you. There are so many reasons for this!
There's no reason not to go big in 2018 by learning Greek with GreekPod101. Just imagine how the world can open up for you!