There are plenty of destinations where you can get by with English, but sometimes you want to do better than just 'get by'. Here are 6 reasons you should learn the basics of the language of your next trip destination.
1. You will be able to discover your destination better than other tourists.
Getting by is one thing, but actually experiencing a trip abroad is quite another. No amount of guidebooks and online research can compensate for a basic lack of language ability. Speaking the language of your destination permits you to explore that destination beyond the regular tourist traps. Your language skills will not only allow you to dig into all the hidden gems of your destination, but they will also allow you to mingle with the locals to get a true experience on your holiday. Think of it this way: you're not restricted to talking to the people at the tourist desk anymore.
2. Knowing how to communicate with local police or medical personnel can be life-saving.
Before you leave for your destination, make sure you learn how to ask for help in that destination's local tongue. Do you know how to ask the waiter if this dish has peanuts in it? Or tell your host family that you're allergic to fish? Can you tell the local doctor where it hurts? Moreover, an awareness of an environment improves your chance of remaining safe inside it. For example, walking around a busy marketplace, dazzled by an unfamiliar language, signs and accents will instantly render any tourist a more attractive mark for pickpockets. Communicating with other people, asking questions and looking confident will make you look like a semi-local yourself, and will ward off potential thieves.
Click here for Greek Survival Phrases that will help you in almost every situation
3. It helps you relax.
Traveling is much less stressful when you understand what that announcement at the airport was saying, or if this bus line reaches your hotel. These things stress you out when traveling and they disappear when you understand the language. This allows you to focus on planning your trip in a better, easier way.
4. Speaking the language can provide you with a way to get to know people you'd never otherwise have the opportunity to speak with.
Sometimes those relationships turn into friendships, and other times they're nothing more than a lively conversation. Either way, as Nelson Mandela said: "If you talk to a man in a language he understands, that goes to his head. If you talk to him in his language, that goes to his heart." When you approach someone – even staff at a store or restaurant – with English, rather than their own language, an invisible divide has already been erected. Making even a small effort to communicate in the language of the place you're visiting can go a long way and you'll find many more doors open up to you as a result.
Click here for the Top 25 Greek Questions you need to know to start a conversation with anyone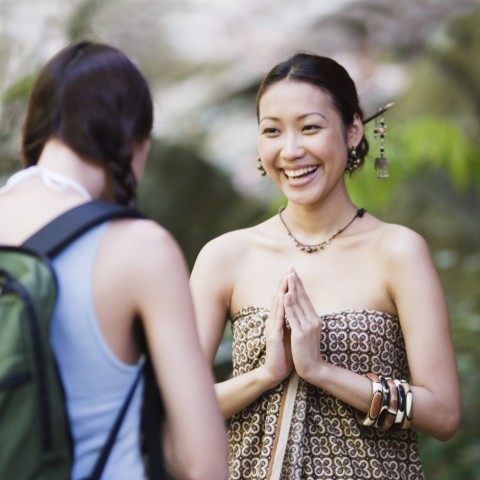 5. You'll be a better ambassador for your country.
If we're honest with ourselves, we know very little about other countries and cultures, especially the local politics. And what we do know is often filtered to us by the media, which tends to represent only certain interests. When you can speak the local language, you're able to answer questions that curious locals have about your country and culture. Are you frustrated with how your country is presented in global news? Are you embarrassed by your country's leaders and want to make it clear that not everyone is like that where you're from? This is a very good opportunity to share your story with people who have no one else to ask. We all have a responsibility to be representatives of the place we come from.
6. Learning another language can fend off Alzheimer's, keep your brain healthy and generally make you smarter.
For more information, check out this blog post about the 5 Benefits of Learning a New Language.